August 17-20 Grand Lake, Colorado
Join the Stoked Yogi Tribe for a long weekend at the headwaters of the Colorado River for a SUP retreat that centers the mind and challenges the body. On the calm water of Grand Lake, find peace through meditation, balance through SUP yoga, and confidence through SUP skills coaching. On the flowing water of the Colorado River, challenge yourself with a full day of scenic downriver stand up paddling. Connecting with nature inspires us to be present, but empowering ourselves through new experiences demands we be present.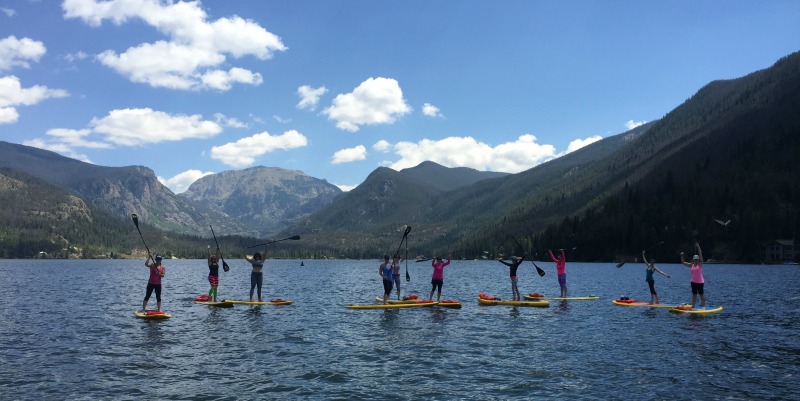 This event is for ALL LEVELS. No paddle experience or yoga experience necessary.
This 5 day, 4 night all inclusive retreat offers:
Daily meditation
Daily yoga (land and water)
SUP skills and techniques workshop on flatwater
Unlimited use of paddle board all weekend
Full day of downriver whitewater paddling

Learn safety & dynamics of the river
River paddling skills lessons
Gear (board, paddle, wetsuits, booties, helmet, PFD)
Guides
Transportation

Waterfront lodging on Grand Lake
Healthy and flavorful vegan meals and snacks. (*Excluding only dinner out on Saturday*)
Stoked Yogi Swag Bag full of goodies!
Plenty of free time to relax, stargaze, sunbathe, shop, hike, paddle, and more!
A new group of friends and amazing lifelong memories!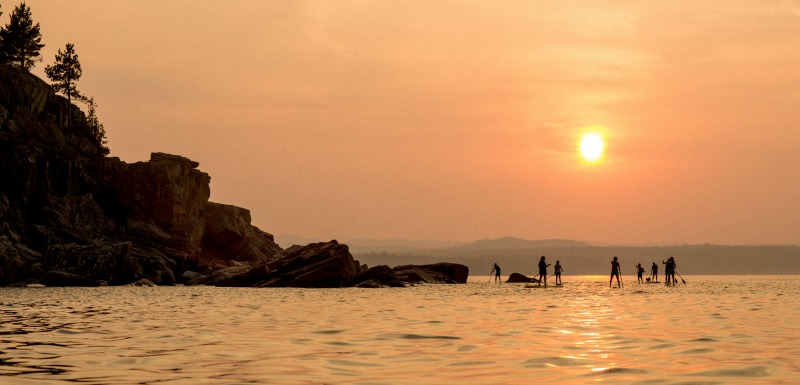 About Grand Lake, Colorado
The town of Grand Lake is the gateway to Rocky Mountain National Park. Our cozy cabin for the weekend is not only lakefront, but also right in the heart of this adorable small mountain town. Between your time spent paddling, doing yoga, and meditating, you will have plenty of free time to enjoy the town of Grand Lake, Local shops, hiking trails, restaurants and bars are abundant. If you would like to spend your free time relaxing and soaking up the sun, of course that is an always an option too. All activities are always optional – this is, after all, YOUR retreat. Our cabin has a beautiful large deck overlooking the lake, perfect for sunbathing and stargazing.
Grand Lake is the deepest natural lake in Colorado. It's scenic mountain views and pristine water are the perfect setting for a spiritual experience.  Being that Grand Lake is the headwaters of the Colorado River, the calm water that you practice yoga and learn to improve your SUP skills on, will be the same water that you test your new found confidence on during our adventure down the Colorado River.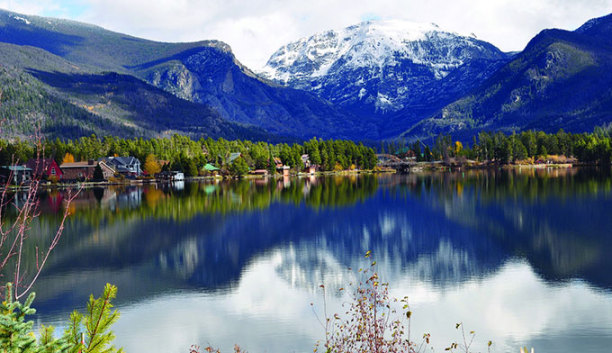 Radical River SUP Adventure
Saturday we will pack up and take a beautiful drive along the river to Rancho Del Rio, where we will begin our stand up paddle board river adventure. After a guided meditation and yoga warm up on the banks of the Colorado, we will gear up and head out. Our trip down the Colorado River will be nothing short of breathtaking (possible pun intended). Paddling through  deep mountain canyons and trying something new will leave you feeling inspired and empowered. Sound difficult or scary? Don't worry, we will teach you everything you need to know about how to paddle and stay safe on the river. No experience is needed to enjoy this adventure! This excursion will include flat moving water. This beginner friendly stretch will allow you to practice feeling the currents below, as well as sections of Class II whitewater to play on and provide a challenge.  After a day on the river, you will have the option to stop and soak in the hot springs on the way back to Grand Lake. Then we will celebrate our conquering of the river by heading out to fill up on local food during an evening out on the town.
Beginners are completely welcome. We will give you all the tools you need to feel confident on the water. You are in good hands!

About Your Guides
This retreat will be lead by Leda Olmsted and Bradley Hilton, both passionate and professional paddlers.
Leda has taught nearly a thousand students SUP yoga, runs her own SUP yoga company and adventure company, and leads multiple Stoked Yogi teacher trainings each year. Originally from the Great Lakes of Michigan, she has a love affair with the water and board sports. Since moving to Colorado Leda has fallen in love with paddling and surfing the rivers. Her mission in life is to empower women through board sports and yoga.

Bradley is a Grand Lake Colorado native and professional whitewater SUP adventurer and racer. He has paddled rivers all over the country and abroad. Bradley has lived and guided on the Colorado River and is extremely passionate about sharing his knowledge and love of paddling, as well as the place he calls home.
Important Notes
*All meals during this retreat will be served vegan and gluten free.
*An optional shuttle from the Denver International airport is available for a $50 fee.
*If you plan on flying in for this retreat please plan to land before 2pm on Thursday, August 17th and please plan your departure time for after 4pm on Sunday, August 20th.

All Inclusive Rates
Bunk bed (6 people in this room) : $1050
Twin bed (2 people per room) : $1175
Queen Bed (private room) : $1,395
Queen Bed (shared bed, price for 2) : $1,995